Sunday, September 19, 2:00 pm, Monthly Program, via Zoom.
Taryn Edwards will present
Out of the Fog: The Surprising Origin Story of the Cable Cars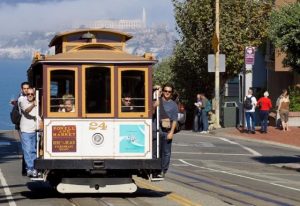 San Francisco's historic cable cars have reopened! Beloved by tourists and locals alike, the cable cars are integral to the development, character, and culture of San Francisco. Join Taryn Edwards for a peek into her research about the cable car's surprising origins and an update on the life of Andrew Smith Hallidie, the father of the cable car.
Taryn Edwards is an historian and librarian for the Mechanics' Institute of San Francisco. In addition to her professional duties she spends a lot of private time digging up history of the place and people associated with it.
She is working on the life of Andrew Smith Hallidie and her research interests include San Francisco's early libraries (there were lots!), industrial exhibitions and fairs, mechanics' institutes worldwide, and the technological innovations that were born in the Bay Area. Find out more at tarynedwards.com
We are always looking for speakers for Monthly Programs; please consider sharing your interests, research and writing with your colleagues, promoting discussion and, perhaps, getting their feedback on your work. Also, consider hosting a meeting; contact: Louis Trager, ltrager@sonic.net
Sunday, October 10, 1:30 pm, Writers Group via Zoom. Jim Gasperini will present.