Sunday, March 19, 2:00 pm, Monthly Program via Zoom.
"Designed for Large Explosions" – The Port Chicago explosion and the Manhattan Project
A Presentation by Daisy Brown Herndon
Daisy Brown Herndon, a former school librarian, was "working" as a free-lance researcher in the WWII reading room at the National Archives in College Park, MD in 1995 when she "met" the protagonist of her novel (in-progress) Scrap Mettle: In 1942, when the Navy opens all ratings to Negroes, young Booker T. Taylor joins up to prove his mettle. Herndon's research for the historic novel led her to the Port Chicago explosion, the subsequent mutiny trial, and the outlandish but intriguing nuclear explosion theory (PCnet) that changed both the focus of her writing and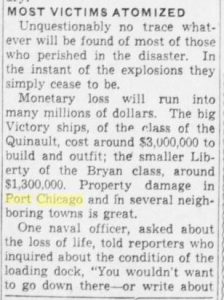 the course of her life. In 2020, Herndon began publishing articles on MEDIUM, including Uncle Sam's Nuclear Cloak, a four-part series featuring a new perspective on the history of the bomb.
Of the 320 Americans killed in the explosion at Port Chicago, 202 were African American sailors who loaded ammunition at the segregated base. Only 51 victims could be identified. A local newspaper reported "Most Victims Atomized."
The presentation will be recorded, and the question-and-answer part will be posted on YouTube for IHS members only. If you don't want to be on the recording, just make sure your video is off. And please remember to mute your microphone!