Sunday, December 18, 2022 2:00 pm, Monthly Program via Zoom.
The Genocide in California's Closet
A Presentation by Robeert Aquinas McNally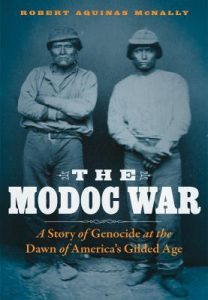 Most Californians are unaware that in the second half of the 19th century their state sponsored and funded a campaign to exterminate its Indigenous peoples — a mass atrocity known under contemporary international law as genocide. This presentation explores what happened in California between 1846 and 1900, looks at how a democracy orchestrated a crime typically associated with dictatorship, and points to the ways the genocide continues to shape this state.
Author and presenter
Robert Aquinas McNally
first confronted the California genocide when he was researching The Modoc War (Bison Books/Univ. of Nebraska Press) and discovered that the conflict's true narrative was something other than the cowboys-and-Indians plot he expected. The book went on to win a Commonwealth Club gold medal as the year's best on California. He is now completing Cast out of Eden: The Untold Story of John Muir, Indigenous Peoples, and the American Wilderness, also for Bison Books.