Sunday, June 20, 2:00 pm
David Hirzel presented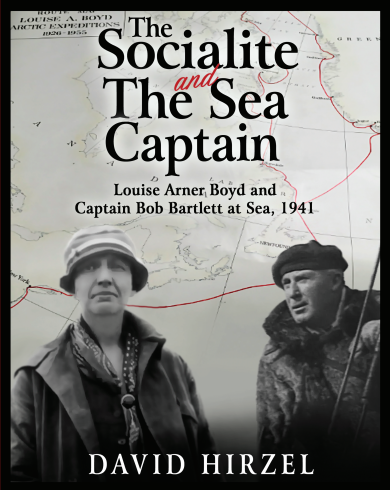 A talk by David Hirzel on the prickly relationship between the socialite and the sea captain on his famous schooner Effie M. Morrissey. When war threatened U.S. neutrality in 1940, the government in Washington, D.C. hired Louise Arner Boyd to lead an expedition through the high Arctic. She in turn hired Captain Bartlett, and thus began the uneasy relationship between the two on board his ship during the summer months of 1941. This was not the first polar expedition Boyd had organized and led, but Bartlett was an old-school "man's man" and captain of the ship.
Who, in fact, was the leader?
Polar historian David Hirzel has edited the transcribed journals of each of them and published them side by side in The Socialite and the Sea Captain for an intimate view of how each viewed the Arctic world around them, and the foibles of each as they came to light.
David Hirzel has had a lifelong fascination with first-hand accounts of polar exploration and has compiled some into books published by his own Terra Nova Press. He is the author of books, plays and poetry. He has also published an article in Marlinspike Magazine on the four-year restoration of the Effie M. Morrissey at Boothbay Harbor Shipyard in Maine, soon to continue her 126-year history afloat. David has had a coastal building design business since the 1980s and lives on the coast in Pacifica. When not writing, he might be found sailing on the Bay, or crossing the Atlantic sharing his maritime expertise with fellow travelers.