Sunday, September 18, 2:00 pm, Monthly Program via Zoom.
How to Create Your Own Legacy Book
A Presentation by Margaretta Mitchell
Margaretta is both photographer and writer, who always brings research and history into her books. Since 2015, she has been producing a legacy series of books that serve as catalogues of bodies of work. She is currently working on a book about a year living in Spain in 1959-60. In her talk, Margaretta will use her publications to help those of you who want to create your own legacy book, including how to self-publish your work.
"My legacy series began with Iconographies in 2015 when I had an exhibition of 20×24 Polacolor prints at Photo Gallery in Oakland, California. The meaning of a work of art can penetrate many layers. For me, pursuing meaning in this 20×24 series involved research, a kind of playful exploration of themes from the past that matched my thinking at that time. Influenced by the writing of Panofsky, I believe that the study of the humanities, especially art, is profoundly useful because the past is a reality that shapes us even if we do not realize it. Thus, we can say that the past is part of everything we do or think—or even reject."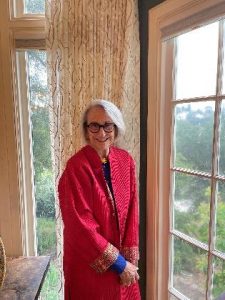 Margaretta K. Mitchell is a well-established artist, photographer, writer and educator. Besides photographic commissions and portraiture, she exhibits her fine art photography nationally. She is the author of five books, including Recollections: Ten Women of Photography, Ruth Bernhard: Between Art and Life, and The Face of Poetry. Since 2015 she has been publishing a series of legacy books that focuses on her 50 years of work in photography. She is a contributor of both text and images to many more books and publications. Her latest book, Dreamscapes and Destinations, grew out of the period of pandemic lockdown. Margaretta has taught at UC Berkeley and UC and UCSC Extension. Her website is
margarettamitchell.com
.